By

category

Also find these products by families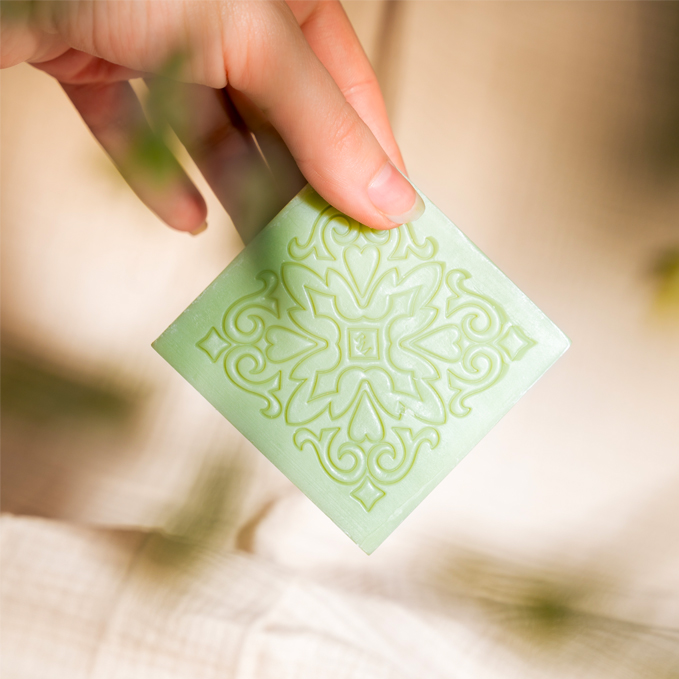 HOW DO I CUSTOMISE MY SOAP?
Rose et Marius is the Ar of offering to the people you love an exceptional gift made in France, which is why we offer you to engrave our scented soaps so that you can make them unique like those to whom you wish to offer them! It's up to you to write your declaration of love, give us a date, a first name or initials. And we will engrave in our workshop this special attention you have for those you want to surprise.
WHY IS ITS FOAM SO CREAMY?
A real concentrate of excellence from Provence, with a unique formulation! The composition of our soap is a secret recipe... but we can tell you that we use poppy oil to nourish your skin, to have a creamy lather and a delicate fragrance.
A soap is the result of a chemical reaction called "cold saponification" which occurs during mixing.
It is an ancestral process. And it couldn't be more natural! That's what makes it so creamy.
Most commercial soaps contain additives such as animal fats, in order to offer attractive prices, which we of course refuse to do for ethical reasons and to offer you the best, nothing but the best. Our soaps are vegan and natural.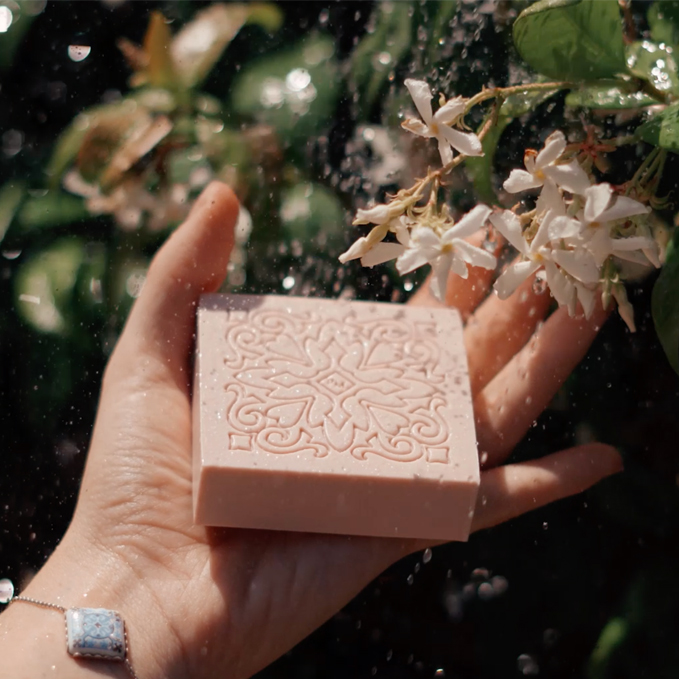 Tout savoir sur Natural scented soaps
First of all, what is soap and what does it contain?
Soap is the result of a chemical reaction called "saponification".
Traditionally, caustic soda is added to vegetable oil, and the oil is transformed into a detergent naturally rich in glycerine: soap.
This is an ancient process. And it couldn't be more natural!
Most commercial soaps contain additives, each with specific properties: preservatives, colourings, perfumes, essential oils, antiseptic, antibacterial or antifungal substances, and moisturisers.
Many brands, in order to offer an attractive price, do not hesitate to add fats such as animal fat...
At Rose et Marius, we advise you to carefully read the ingredients of the soap you are going to buy! 
Our company has decided to use only natural vegetable and vegan ingredients.
We also decided to create our own recipe by adding poppy oil and olive oil for their moisturising properties.
This also provides a creamy lather in which our perfume from the Haute Parfumerie de Grasse can develop harmoniously.
Want to know more about soaps and their secrets? Come and discover our dedicated article! 
How do I store my soap?
Before using it, store it in a dry place, away from light and use it within a year of your purchase.
Indeed, even if it can in principle be kept longer, don't forget that it is a product without preservatives.
In addition, the smell of the plants and flowers and the colour obtained from the vegetable dyes will fade over time.
When you start using your soap, the important thing is to encourage it to dry between uses (using a soap dish with holes in it) and not to let it soak in water.
Soap will soften much faster if it is not dried properly and if many people use it. 
Why are cold process soaps more expensive than supermarket soaps?
These are actually two products that should not be compared!
Industrial soaps are mass-produced in a "hot" process that produces a usable soap in a very short time.
The oils used are denatured by heat and the glycerine is extracted in the liquid phase and sold for use in various cosmetic products.
The volume of handmade production cannot be compared with that of the industry and this obviously has an impact on the price.
At Rose et Marius, our soaps and shampoos are made by hand using a cold saponification process.
They retain their natural glycerin and contain vegetable oils that help the skin to rebuild its natural protection.  
Also note, if you are comparing prices with soaps available in organic shops, that just because a soap is organic does not mean it is necessarily a cold process.
A soap labelled organic may well have been made by an industrial process, which may explain the price difference.
The house of high perfumery Rose et Marius presents you its range of perfumed soaps. Delicately scented with our exclusive perfumes from the Haute Parfumerie de Grasse.

Our natural perfumed soaps are cold saponified. They are perfectly adapted to the size of the hand.


And so beautiful with their engraving of our iconic cement tile patterns, emblematic of the brand, echoing the childhood memories of the creator, Magali, who used to play on these cement tiles in the Bastide of her Grandmother, Rose en Provence.

A real concentrate of excellence from Provence, with a unique formulation!

The composition of our soap is a secret recipe... but we can reveal that we use poppy oil to nourish your skin, have a creamy lather and a delicate fragrance.

Our natural scented soaps are on an entirely vegetable base and enriched with poppy flower oil, for moisturised, soft and silky skin. Vegan, they contain 97% natural ingredients.

At Rose et Marius we are committed to not testing on animals and to producing only in France, in our workshops in Provence, and to offering you only the best to make you see life as a Rose...and Marius.

Because embellishing your daily life is our dearest wish.

Try them! and share your experience with us. Each soap exhales scents that evoke emotions and stimulate our senses: fresh and softly scented, unisex, tangy, fruity, softly sweet... Whether you are more attracted by woody, fruity, floral or even sweet notes, you will find your happiness among our collections.

Ideal for your gift ideas! We personalise our natural scented soaps 'à la minute' in our shop at 3 rue Thiers in Aix en Provence or online at roseetmarius.com. And the engraving is free!

Choose from our exclusive fragrances from the Haute Parfumerie to discover and engrave with a first name, a date, a phrase to make your gift unique.

You can even choose your own writing!

For some time now, the traditional solid soap has been making a strong comeback in the bathroom.

Indeed, many people are discovering or rediscovering the benefits of solid soaps, especially thanks to cold process soaps.

But faced with this massive offer, how to choose your soap?

As with many cosmetic products, there are several types of soap, and not all are equal. At Rose et Marius, the soaps are made in Provence by our Master Soapmaker with key ingredients such as olive oil and poppy oil.
Read more
expand_more