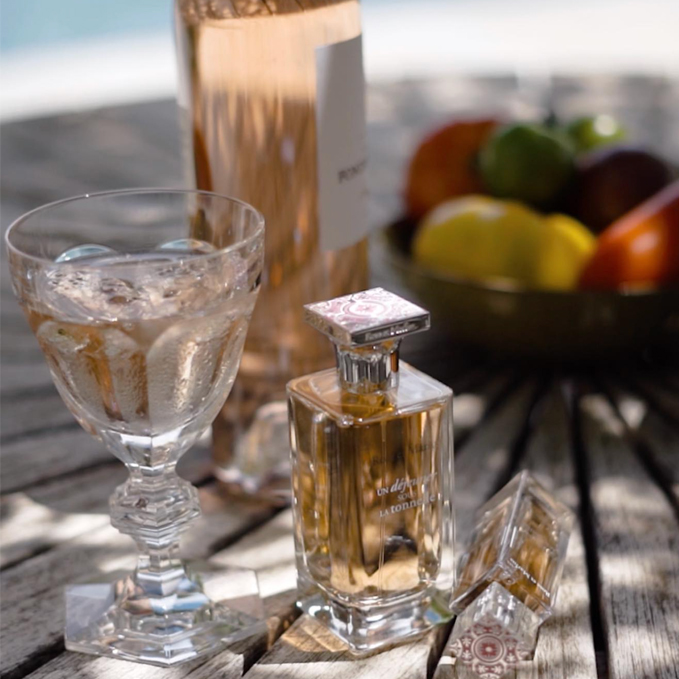 DOES OUR ROSÉ WINE PERFUME SMELL LIKE ROSÉ WINE?
Of course, our best-selling perfume does not smell like rosé wine! But it does have the olfactory notes of the Palette appellation tasting in Aix en Provence.
The rosé wines of Palette are our favourites. A very small estate of 51 hectares next to Aix en Provence (with a view of the Sainte Victoire!), these elegant and racy wines develop notes of red fruit, black fruit and wood, as most rosé wines are aged in oak barrels, which is rare.
We have worked with the finest materials of Haute Parfumerie to create this unique and atypical parfait, the result of a balanced harmony of fruity (grape, wild strawberry, pure), floral (Yang Ylang from the Comoros) and woody (Indian Sandalwood) notes.
Combine the fruity fragrance 'A PINK WINE UNDER THE TONNEL' with another fragrance to create your own custom blend.
Want to make your fruity fragrance more floral?
Then you'll enjoy the unique combination with 'A SIESTE IN THE ENSOLEILLEE BASTIDE'.
Do you want to make your fruity fragrance warmer and more oriental?
Then combine it with 'UN RENDEZ VOUS AVEC CEZANNE'.