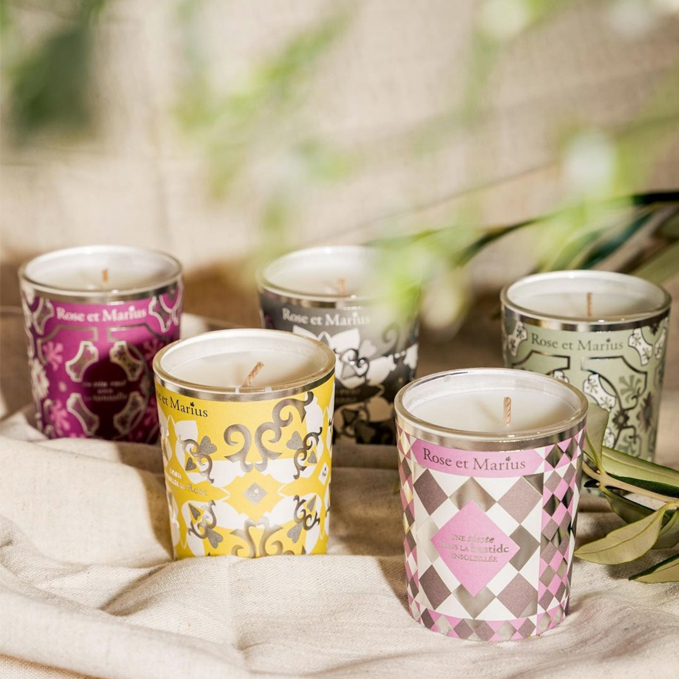 HOW TO CARE FOR YOUR SCENTED CANDLE
1/ Light your scented candle for at least 20 minutes so that its fragrance can be released. For the diffusion of the perfume we recommend not to go beyond 3 hours, because the perfume risks to saturate the air, and thus the scent will not have any more effect.
2/ It is necessary to take care of the wick by regularly cutting it to about 0.5cm so that the candle does not blacken. Indeed our candles are made of cotton wick (which is the best natural material for wicks), so if they are not cut regularly they risk turning black. We offer a wick cutter to do this easily when the candle is cold.
3/ It is best to extinguish your candle without blowing out the flame as this can create soot that stains the edges of the candle black. We recommend using your Rose et Marius snuffer.
4/ Once you have finished using the candle, keep it away from dust, to prevent the candle, which is a greasy substance, from absorbing them.
Be careful never to leave your lit candle unattended!
REFILL YOUR CANDLE OVER AND OVER AGAIN!
Do you like to scent your home with scented candles? So do we! That's why we invented a unique candle refill concept over 10 years ago.
Once your Rose et Marius scented candle is finished, remove the wick on the metal disc when the candle is cold. Then put your container in the dishwasher and refill it endlessly with one of our 27 scented candle refills. Our candle refills exist to avoid waste and encourage reuse! To refill your candle, simply remove the plastic cover which is compostable, then place the scented wax in your Rose et Marius candle jar.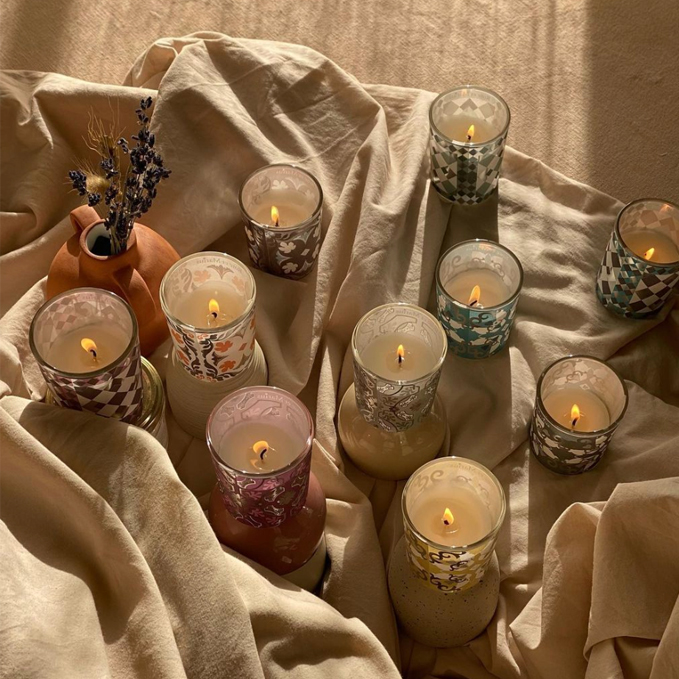 Tout savoir sur Mini scented candles
A new collection for the beginning of 2022
How are Rose et Marius miniature scented candles made?
All our candles are made in Provence, at our waxworks.

Our workshop in Aix decorates it with paper enhanced with hot silver to create a scented lantern


Why choose the mini scented candle?
You can change the scents every day, as you wish.

We want to offer fragrances that are delicately scented and have a wonderful diffusion.

This is why we have developed a method that is unique on the market.

Each exclusive fragrance is cast in a unique blend of waxes.

For each of the 9 fragrances in our candles, we test different wax recipes in order to improve the quality of the scent in the air as much as possible.

And above all, to have delicious, pleasant and unique scents.

It's a long and tedious job, but the results are there and our customers appreciate this quality.

Our efforts were rewarded in 2017, when we were honoured with the Label des Artisans d'Art for the quality of our exceptional scented candles.
Read more
expand_more