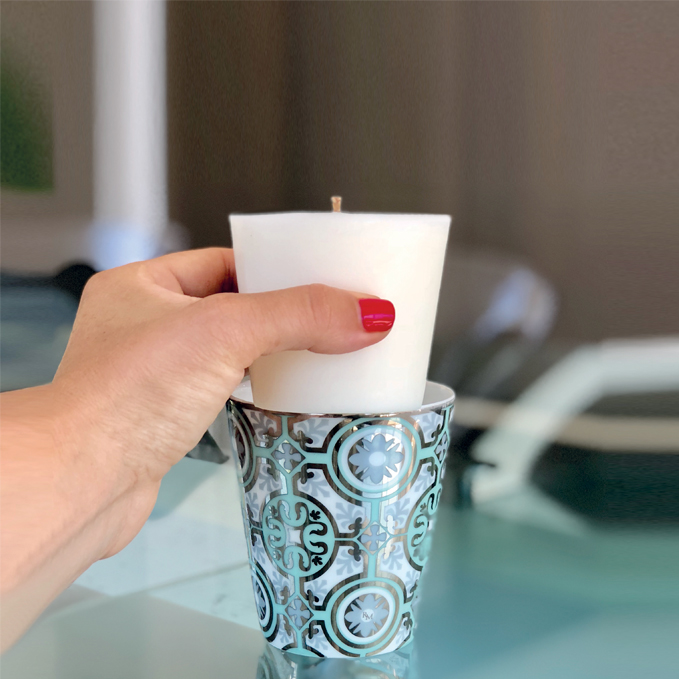 HOW TO RECHARGE YOUR CANDLE
Do you like to scent your home with scented candles? So do we! That's why we invented a unique candle refill concept over 10 years ago.
Once your Rose et Marius scented candle is finished, remove the wick on the metal disc when the candle is cold. Then put your container in the dishwasher and refill it endlessly with one of our 27 scented candle refills.
Our candle refills exist to avoid waste and encourage reuse! To refill your candle, simply remove the plastic cover which is compostable, then place the scented wax in your Rose et Marius candle jar.
WHY DO ROSE AND MARIUS SCENTED CANDLES GIVE OFF THEIR SCENT SO WELL?
As a true expert in scented candles, we do our utmost to ensure that the formulation of our products and the origin of our exceptional raw materials are of the highest quality.
All our scented candles are based on vegetable, beeswax and mineral waxes. For each fragrance we make a customised assembly.
This is to guarantee an optimal diffusion of the fragrance in the air, without any additives or booster, which are toxic for the health and too often used in the scented candles.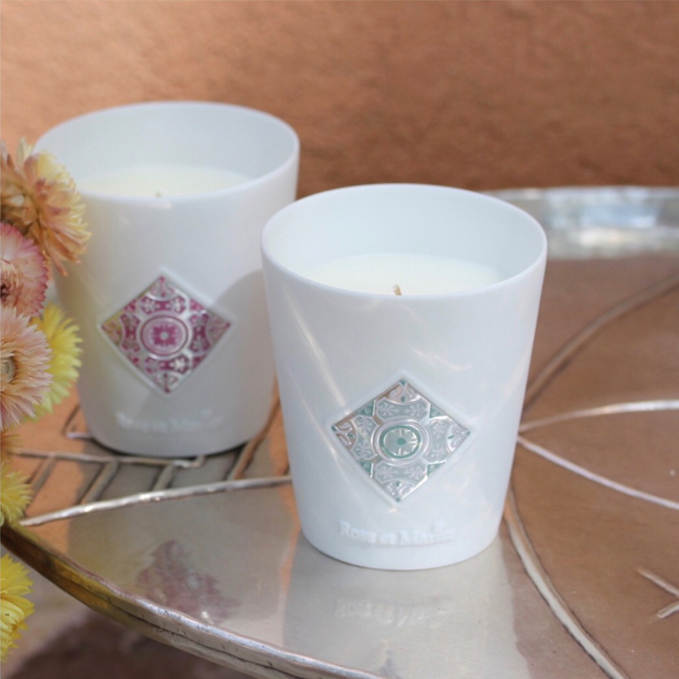 Tout savoir sur Scented candle refills
A real decorative element, the Luxe Rose and Marius scented candles give a relaxing and soothing atmosphere thanks to its friendly and warm fragrances that we love.
How to maintain and burn your candle ?
The quality of our scented candles requires specific burning rituals.
The first burn of a candle always takes longer than the subsequent burn.
Allow the first layer of wax to liquefy completely, ideally for 45 minutes.
To maximise the diffusion of the fragrance into the air, we suggest burning for up to 2 hours.
Unique scented candle expertise! Each of our scented candles has a different wax blend to ensure optimal diffusion of the fragrance into the air.
The benefits of a scented candle?
A real cocooning element, the scented candle is necessary for you to feel totally at home.
But the purpose of a scented candle does not stop there! There are many benefits depending on the scent you choose:
Scented candles stimulate and invigorate the body: this is the case for example for lavender or mint scented candles
Scented candles have soothing properties: relax with the scent of roses, jasmine or fig tree.
Scented candles can improve your state of mind; a scent can help you to be more optimistic and gain in good mood for example with our rose wine, amber or madeleine candle which have addictive and regressive fragrances.
Thanks to a scented candle, you can also recreate moments or memories of childhood, that's our motto at Rose et Marius.
How to choose your scented candle?
The sense of smell is considered to be one of our favourite senses. It is therefore important to choose the right scents for your candle.
Would you like to smell scents that bring back memories?
For example, during your childhood, the smell of madeleine, mint , calisson or orange blossom?
If, on the other hand, you want to use a candle to get rid of bad smells, you can turn to fragrances that give off strong scents such as floor, mint or 3 Thiers.
It is up to you to find the right balance, depending on your rooms, your desires and your needs.
Do you like burning scented candles in your home?

So do we! And that's why we have invented a unique concept of refillable candles. So that you can refill your scented candle as much as you like.


Is your Rose et Marius candle finished?
You have the choice! Refill your candle with one of our 30 scented candle refills. And discover our addictive fragrances for an exceptional olfactory journey.

The most beautiful raw materials of the Haute Parfumerie de Provence are used in our exclusive creations to make this scented moment a real enchanted moment.

Candle refills made by Frédéric, our Master Waxmaker in Provence, and entirely made with love in France.
Why refill your candles?

Stop wasting and long live reuse! Especially when the candle holder that holds the candle refill is so chic and refined.

Indeed, the cup of your Rose et Marius luxury candle is made of fine Limoges porcelain.

Enhanced with real gold or platinum. For the exceptional workmanship of our scented candle, we have had the honour of receiving since 2017, the Label des artisans d'Art which guarantees the exceptional quality of our scented candles.
How to refill your candle?

A unique concept! Remove the wax from its silicone cup.

Then place the wax in your precious cup. When you light your candle, the cup will become translucent.

And off you go for 60 hours of fragrant scent!

However, if you wish to change fragrance without waiting for the end of your ROSE AND MARIUS scented candle, it is possible!

Simply place your candle in the fridge for a few hours.

Then take it out and tap lightly on the sides. The wax will come off and you can place it in the silicone cup.

And refill your cup with a new scented refill.

And you, what will be the fragrance of your candle?
Read more
expand_more