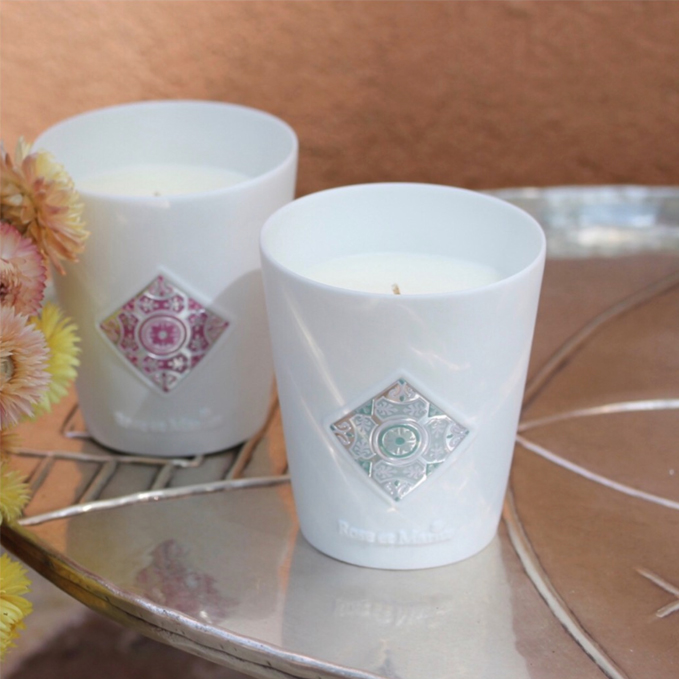 HOW TO CARE FOR YOUR SCENTED CANDLE
1/ Light your scented candle for at least 20 minutes so that its fragrance can be released. For the diffusion of the perfume we recommend not to go beyond 3 hours, because the perfume risks to saturate the air, and thus the scent will not have any more effect.
2/ It is necessary to take care of the wick by regularly cutting it to about 0.5cm so that the candle does not blacken. Indeed our candles are made of cotton wick (which is the best natural material for wicks), so if they are not cut regularly they risk turning black. We offer a wick cutter to do this easily when the candle is cold.
3/ It is best to extinguish your candle without blowing out the flame as this can create soot that stains the edges of the candle black. We recommend using your Rose et Marius snuffer.
4/ Once you have finished using the candle, keep it away from dust, to prevent the candle, which is a greasy substance, from absorbing them.
Be careful never to leave your lit candle unattended!
REFILL YOUR CANDLE OVER AND OVER AGAIN!
You like to perfume your home with scented candles? So do we! That's why we invented a unique candle refill concept more than 10 years ago.
Once your Rose et Marius scented candle is finished, remove the wick on the metal disc when the candle is cold. Refill it endlessly with one of our 27 scented candle refills. Our candle refills exist to avoid waste and encourage reuse! To refill your candle, simply remove the plastic cover which is compostable, then place the scented wax in your Rose et Marius candle jar.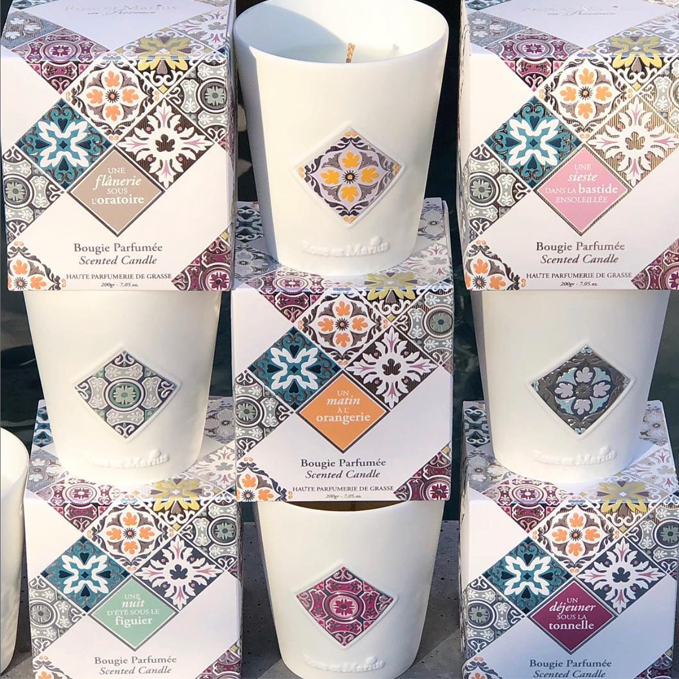 Tout savoir sur Candles - La parfumerie
You're a fan of scented candles? We are too! But do you really know the best practices?
STEP 1
When you buy your Rose et Marius scented candle, the cotton wick is cut to 0.5cm. Remember to keep this (approximate) candle height in order to optimise combustion and avoid the black deposit left by the plant material of the wick. The black traces that may appear on the walls are in no way a sign of poor candle quality, on the contrary it means that the wick is of good quality, but it means that the wick has not been cut to the right height. Remember to do this before lighting it.
STEP 2
Do not place your scented candle near a draught where it could melt unevenly.
STEP 3
Always leave your scented candle lit for a minimum of 30 minutes to release the scent of your exclusive Rose et Marius fragrance. You can extinguish your candle after 2 hours of use because the candle will have released its scent optimally. Of course, we understand that you may want to leave it lit in order to enjoy the translucency of the tumbler and create a soft and cocooning atmosphere in your home!
STEP 4
To extinguish your candle, you can use a snuffer (a small metal cone with a handle) to smother the flame. You can also simply blow carefully on the flame to avoid any hot liquid wax splashes and an increase in smoke. If necessary, replace the wick in the centre of the scented candle.
Use precautions:
The Rose et Marius Luxury scented candles are ideal for a relaxing atmosphere, to perfume your home, for a romantic dinner, during your meditation or on the edge of your bath. But be careful, the candles should never be left unattended in a room, within the reach of a child or your pets. Candles can cause burns or even fires. Be careful to avoid any risk of danger. 
Also be careful to remove the silicone from the refills of the Rose et  Marius scented candles. Silicone is a flammable material.
In 2012 Rose et Marius decided to launch a collection of scented candles.

Not to propose yet another kind of scented candle, but because we couldn't find what we liked!



That is to say :


A candle that is a beautiful object made by hand in France. All our 

candles

are made in Limoges, in a wonderful workshop where Daniel is the conductor. When the creator set off on the roads of France in search of the best craftsmen to make the Rose and Marius collections, she stopped in Limoges to ensure that the candles are of such a bright white and fine quality that they allow the light to pass through.But even in Limoges, the qualities are not identical. Our workshop, dare we say it, is incredible. And we are so proud and happy to be able to offer you such quality.
We also wanted a candle that could be 

refillable

 to avoid the accumulation of objects, but rather favour reuse. Consuming less but better is at the heart of our approach.
And finally, the perfume! We want to offer fragrances that are delicately scented and with a wonderful diffusion.

This is why we have developed a method that is unique on the market.

Each exclusive fragrance is cast in a unique wax mixture.

For each of the 30 fragrances of our candles we test different wax recipes in order to improve the quality of diffusion of the perfume in the air as much as possible.

It's a long and fastidious work, but the results are there, and our customers love this quality.

Our efforts were rewarded in 2017, when we were honored with the Label des Artisans d'Art for the quality of our exceptional scented candles.

Once your Rose et Marius Luxury Scented Candle is finished, it's very simple. Just remove the wick by hand (wait until the candle has cooled down) and buy a scented candle refill .

30 fragrances are at your disposal so you can be in tune with the season or the mood of the moment.

The Rose and Marius Luxury Scented Candle refills are cast in silicone.

Simply remove the wax from the silicone and place it in your Limoges fine porcelain timbale.

As for the silicone, place it in a cupboard, it will diffuse a delicate fragrance.

Tip: Our candles have a burning time of about 60 hours.

If you want to change the fragrance of your candle without waiting for the end of your candle.

Extinguish your candle and let it cool down.

Then place it overnight in your refrigerator.

The next day, tap the sides of the candle and extract the wax, then place it in the silicone mould.

And place another scented candle refill in your timbale!
Read more
expand_more