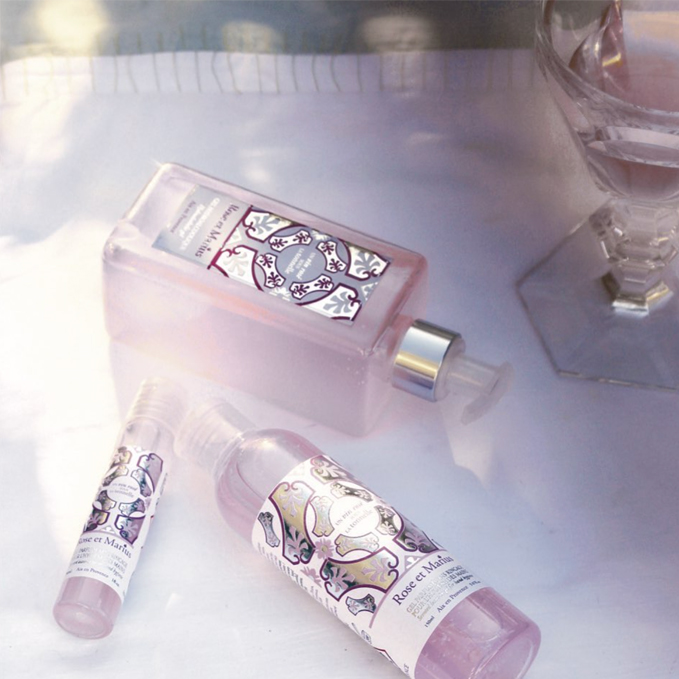 IS IT EFFECTIVE AGAINST COVID?
With an 80% alcohol content, our gel is not only very effective against Covid, but it also smells wonderful and is not sticky! Indeed, we want to make this disinfection ritual a moment of well-being!
We offer you our iconic Rose and Marius rose wine perfume in a hydro-alcoholic gel available also in travel size (30ml), handbag size (150ml) and also refillable bottle for home with pump (315ml) and refillable bottle (1litre)
To be consumed without moderation to face the Covid and take pleasure.
WHY IS IT SO PLEASANT TO USE?
First of all, test its incredible texture. It doesn't stick. Then admire it: in powder pink, it is comforting. Its paper label, textured in hot silver, has the pattern of our cement tiles. And above all its smell: a pure moment of pleasure! It will leave your hands soft and delicately scented.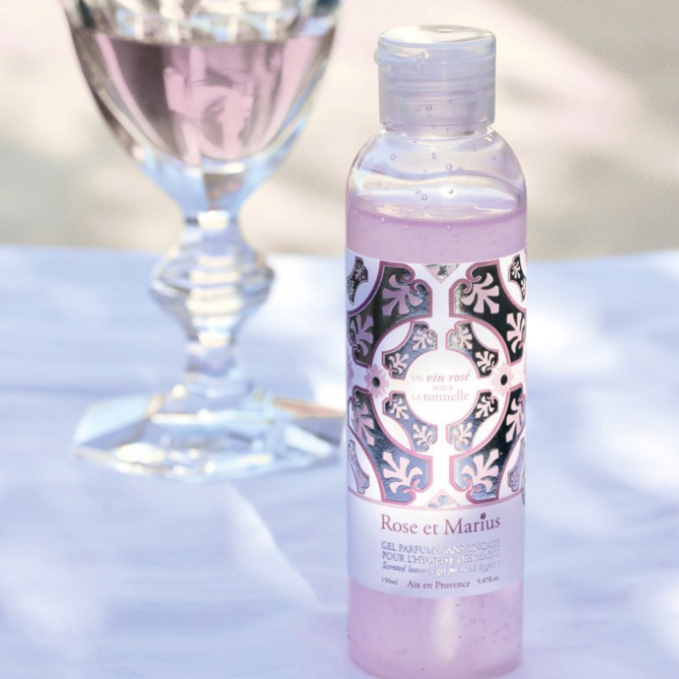 Tout savoir sur Scented leave-in gel for hand sanitizer
Like wearing masks, washing your hands is one of the barrier gestures to adopt against the coronavirus (Covid19).
However, it is not always easy to always have a water source nearby.
This is why it is recommended to carry a hydro-alcoholic gel to limit the spread of the virus.
But what is it used for? For whom? How and how much does it cost?
Hydroalcoholic gel, what is it used for?
A hydro-alcoholic solution is a mixture of water and alcohol which allows the destruction of bacteria, viruses and fungi.
Several forms are possible: gel, foam, spray or wipes.
A hydro-alcoholic solution does not clean the hands but disinfects them.
It should be used in addition to washing hands with soap and water or when there is no water point nearby.
Rose et Marius has decided to opt for a gel with a melting, non-sticky texture, so that this moment of disinfection is also a moment of pleasure.
Our gel is scented to leave a delicate scented film on your hands.
We have also integrated a softener to make your hands soft and silky. And above all non-sticky!
Covid19: the hydro-alcoholic gel, a barrier gesture.
When you don't have access to a water source, you can use a gel with an alcohol concentration of at least 60%.
This should be done in all circumstances where you may have touched a potentially contaminated surface and your hands will then come into contact with your mouth, nose and eyes.
It is therefore important to avoid touching your face as a preventive measure. 
But at Rose et Marius we wanted to go beyond the recommendations and offer you a 70% gel for even more efficiency.
Here are the cases in which to use a hydro-alcoholic solution:
where there is no water point for washing hands with soap and water
after contact with a sick person or their environment
after using a collective space (public transport, meeting places, company canteen or restaurant, meeting room, etc.)
on a trip
before and after eating
after touching a potentially contaminated surface or object.
How do I wash my hands with gel?
With a hydro-alcoholic gel, the gestures are more or less the same as with ordinary soap:
Place a few drops of the product in the palm of your hand.
Rub the back of your hand and then the interstices between your fingers, paying particular attention to your nails and thumb joints.
Finish by going down along the wrist.
Your hands will then dry in a few seconds in the open air.
Rose et Marius, Luxury perfume house in Aix en Provence, wants to make your everyday life more beautiful by offering you only exceptional objects to make you see life in Rose...and Marius!

It is with this desire that we have created a perfumed Hydroalcoholic gel.



To transform this constraint into a real moment of pleasure. Indeed, its powder pink texture is unctuous and contains a softener that makes your hands very soft. And leaves a delicate perfume from the Haute Parfumerie of Grasse. No more sticky hands!

Our hydroalcoholic gel is scented with the best seller scent of Rose et Marius: A rosé wine under the arbour.

An exclusive niche perfume inspired by the unique moment of Art de Vivre in Provence, when enjoying a glass of rosé wine with friends. We have therefore used the top notes of the grape, in the heart notes red fruit and black fruit which recall the color of the wines and in the base notes woody notes which refer to the oak barrels in which some rosé wines are aged.

Our hydro-alcoholic gel smells delicious but is also very effective.

It contains 70% of bactericides and is therefore a very good weapon against COVID. You can also use our solid soap and scented liquid soap, which is very effective, as well as our hydroalcoholic gel, as a barrier measure.

Our gel is handcrafted in Provence, by our certified laboratory and guarantees you not only a very high-quality product, efficient but also local and elaborated in a short circuit.

It is available in 3 refillable formats: 2 bag formats in 30 and 150ml, a 315ml format with a pump.
The refill is available in 1-liter bottles.

We have also thought of design supports in stainless metal if you wish to elegantly hang your bottle of Rose et Marius scented hydroalcoholic gel in your home.
Read more
expand_more