WHY ARE OUR DIFFUSERS EXCEPTIONAL?
Our home fragrance diffusers are exceptional. We tell you everything!
1- As they are alcohol free, and based on oils, they are non-toxic, so you can even use them in your bedroom.
2-They last longer. At least 3 months for a 200ml and sometimes up to 1 year depending on the size of the room. Why is that? Because they are alcohol free and do not stale.
3- They have 20% pure perfume (in general, diffusers have about 7% perfume because it is the most expensive component when it comes to a perfume from the Fine Perfumery) and therefore have a very good diffusion and smell delicious thanks to our creations from the Haute Parfumerie deGrasse.
4- Finally, they are infinitely refillable!
CREATE YOUR OWN CUSTOMISED HOME FRAGRANCE!
Because you are unique, we like you to be able to personalise and create your own customised perfume. This is why we offer you several possibilities:
1 -If you can come to Aix en Provence, we offer perfume creation workshops by appointment. To book online, go to the category workshops
2-Create your own perfume on line by selecting the top notes, the heart notes and the base notes which correspond to you the most!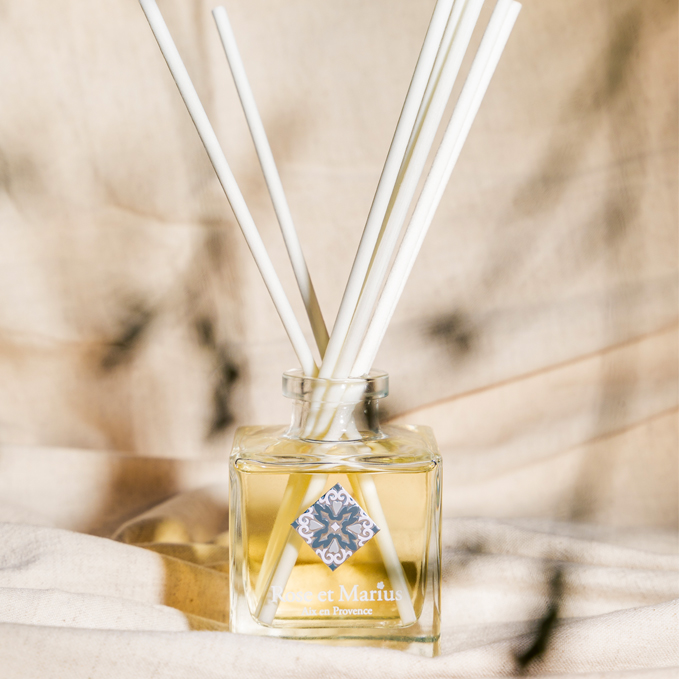 Tout savoir sur Home fragrance diffusers
Rose et Marius is an expert in home scenting.

Since 2012, we have been developing exclusive olfactory signatures from the Haute Parfumerie for the most beautiful addresses (Michelin-starred restaurants, palaces, 5-star hotels, home designers ...).

We have decided to offer you the opportunity to perfume your home sweet home with a bespoke fragrance that suits you.

It will complete perfectly the atmosphere of your living space by perfuming it with the most beautiful raw materials from the Niche perfumery.

Our collections of luxury home perfumes are entirely elaborated in Provence in our workshops. We have received the Label des Artisans d'Art for the quality of our Made in Provence collections.

Several options to perfume your Home :

Our Rose et Marius Perfume Diffuser.

Its an alcohol-free formulation, composed with our unique (and secret!) recipe of ORGANIC oils.

So, you will be able to perfume your bedroom, as there are no toxic emanations.

Moreover, it lasts longer because it does not evaporate (like most perfume diffusers that are alcohol-based). Your Rose et Marius luxury home fragrance will diffuse up to 2 to 3 months.

Because sustainable development is very important for Rose et Marius, so we have the pleasure to inform you that our luxury home fragrances are refillable !
How do I use the luxury home fragrance diffusers?
The diffusion of your luxury home perfume is done in a natural way by capillary action (the sticks that you dip in the perfumed liquid and which diffuse the perfume), it has a very high concentration of perfume: 20% which guarantees you an excellent diffusion of the perfume.

Scented Home Spray
Elegant bottle decorated with a stopper that takes up the emblematic pattern of our cement tiles.

This luxury home perfume spray contains an exceptional concentration of the exclusive fragrance Rose et Marius, from the Haute Parfumerie de Provence.

This spray handmade in France by our artisan is available in 8 fragrances.

It is also available in a luxurious gift box.

Presented in a precious box it contains the spray of your choice + a tile to be perfumed.

This tile is manufactured in Limoges in a material that keeps the perfume in memory and diffuses it. Very simple to use : spray the tile with your home perfume of Luxe Rose et Marius. Then hang your tile in your car, wardrobe, wardrobe, drawer, suitcases...
Read more
expand_more