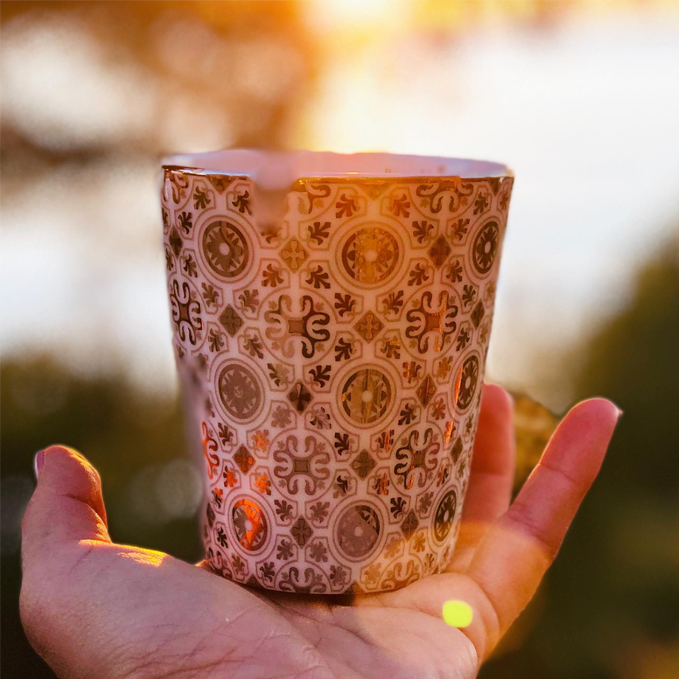 HOW TO CARE FOR YOUR SCENTED CANDLE?
1/ Light your scented candle for at least 20 minutes so that its fragrance can be released. For the diffusion of the perfume we recommend not to go beyond 3 hours, because the perfume risks to saturate the air, and thus the scent will not have any more effect.
2/ It is necessary to take care of the wick by regularly cutting it to about 0.5cm so that the candle does not blacken. Indeed our candles are made of cotton wick (which is the best natural material for wicks), so if they are not cut regularly they risk turning black. We offer a wick cutter to do this easily when the candle is cold.
3/ It is best to extinguish your candle without blowing out the flame as this can create soot that stains the edges of the candle black. We recommend using your Rose et Marius snuffer.
4/ Once you have finished using the candle, keep it away from dust, to prevent the candle, which is a greasy substance, from absorbing them. Be careful never to leave your lit candle unattended!
REFILL YOUR CANDLE OVER AND OVER AGAIN!
Do you like to scent your home with scented candles? So do we! That's why we invented a unique candle refill concept over 10 years ago.
Once your Rose et Marius scented candle is finished, remove the wick on the metal disc when the candle is cold. Then put your container in the dishwasher and refill it endlessly with one of our 27 scented candle refills. Our candle refills exist to avoid waste and encourage reuse! To refill your candle, simply remove the plastic cover which is compostable, then place the scented wax in your Rose et Marius candle jar.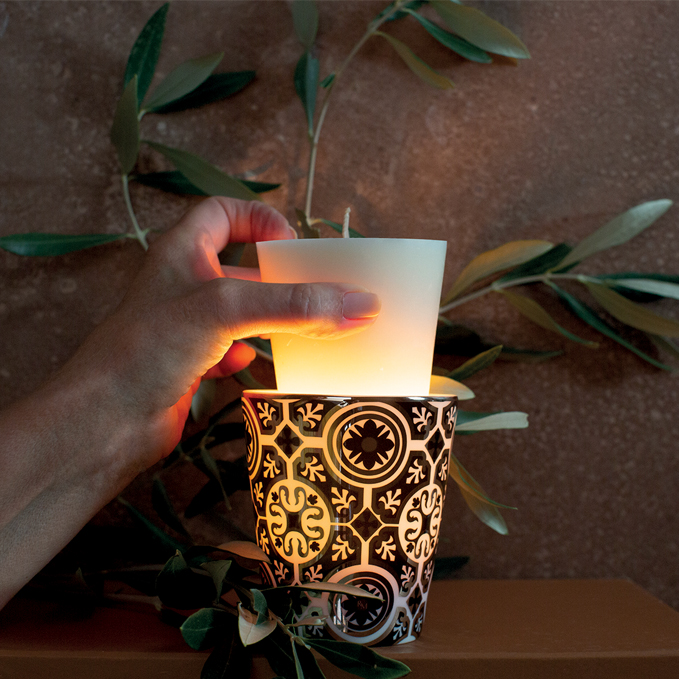 Tout savoir sur Precious refillable candles
Rose et Marius's colored candle
Once upon a time there were exceptional luxury scented candles.

We offer you a unique concept of precious refillable candles made entirely by hand in France

Presented in a luxurious gift box supplied with a certificate of authenticity.
Sophisticated and elegant, our colored candles are the perfect finishing touch to your home. Not only for their much appreciated fragrance, but also for the warm light they diffuse.
How are colored candles made at Rose et Marius ?
Our scented candles made with mineral and vegetable waxes are made with love in Provence by our master wax maker.
The formulation of our products is unique. We select the most beautiful natural raw materials coming from Grasse, capital of perfumery.
Moreover, we have obtained the label of the metiers d'art for the quality of our creations.
No less than six excellent craftsmen have worked on this luxury scented candle.
The glass jar colorfoul candle holders
This decorative element is both aesthetic and useful. Indeed, you can place your colored candle inside. The glass candle jar is ideal to create a soft and warm atmosphere since it lets the light emitted by the candle pass through.
The wick
The wick of our ecological candles is 100% natural and has not undergone any treatment.
The box includes : 35 exclusive fragrances to choose from.
What are the different scents available ?
Coming from the Haute Parfumerie from Grasse, our scented creations are elaborated by Ollivier, our great nose in Grasse.
Which scented atmosphere will you choose in our luxury scented candles? Our signature rosé wine fragrance? Or our emblematic fig tree fragrance? Floral notes such as rose, orange blossom, jasmine, lime blossom? Or fresh notes such as mint, verbena, seaside? Gourmet notes such as madeleine, calisson, amber or the 13 desserts of Provence?
And so many more to discover!
Our Master Waxmaker composes different wax blends for each of our perfumes, so that the diffusion of the perfume in the air is optimal.
What are the different colors available in our candles collection ? 
Our candles are available in real gold and platinum, in different cement tile patterns inspired by the designer's grandmother's old country house. 
Available in black, red, blue, green, pink, gray, taupe, but also in fuschia and platinum. Discover our beautiful colored porcelain kettledrums from limoges .
How to refill the wax of your precious
multi
colored candle ?
Place your refill of scented wax in the precious kettledrum that you will have chosen from among many patterns and colours: red, pink, taupe, grey, pink, sky blue, navy blue, celadon green, made of fine Limoges porcelain on which we have hand-laid our emblematic cement tile patterns, in gold or real platinum.
The candle will become translucent as it burns, thanks to the fineness of the porcelain we use. The "Wow" effect guaranteed!
As soon as a ray of sunshine comes on your candle, you will be able to appreciate precious and dancing shadows appearing on your furniture. Beyond an exceptional scented candle, it is also a Made in France decorative object that you will be able to keep, reuse and pass on.
To live La vie en Rose...and Marius ! Indeed, once your Rose et Marius luxury scented candle is finished, put it in the dishwasher and refill it at will with our scented candle refills from the Haute Parfumerie de Grasse.
Then you will be able to choose your scented candle refill. It is poured into a silicone cup to protect it.
Just remove the wax and place it in the cup. On top of that, we ship worldwide!
How to keep long your luxury Colorful candles and sticks ?
If you want to keep a candle for a longer period of time, you need to take good care of it. When you first light your scented candle, melt it all the way down to the sides of the container to prevent tunneling and ensure an even burn throughout the life of the candle.
Making sure that the first burn is uniform will prevent the candle wax from seeping through. It is also important to cut the wick of the candle if you want to extend its life because the larger the flame, the more the candle will burn.
To do this, remember to cut your wick before each lighting. The wick should be about 0.5 to 5 mm long. Finally, remember to re-center the wick as soon as necessary. This prevents black spots from forming on the holder.
If your candle smokes, put it out. The same is true if it flickers or if the flame gains in height. These signs indicate that the candle is not burning well and that the flame is not controlled.
Let the candle cool, cut the wick, and check for drafts before relighting.
Always remember to store your scented candle in a cool, dark and dry place. Scented candles also look great stored under a cloche, which also protects from dust.
Avoid placing them in a place where they will be exposed to direct sunlight or bright indoor lighting.
FAQ
What is the most popular color candle?
The most popular scented candle is the rose wine fragrance! This perfume, from the high perfumery of Provence is our best-seller in France and internationally. This fragrance is available in rose wine gift collection.
Are colored candles toxic?
There are 3 main families of wax to make candles, kerosene wax, beeswax and vegetable waxes, such as soy wax candles.
The kerosene is a component obtained today in refinery from oil, while the beeswax and the vegetable waxes are natural.
In addition to the wax base, candles may contain dyes and additives, more or less natural, which serve to solidify the candle or to better fix the fragrances… It is quite possible to perfume a candle with essential oils, which will be then natural.
But don't panic, our candles are made of vegetable wax without dye !
Can you color candles?
It is possible to color the candle but prefer natural ingredients such as plants or vegetable powders that color the oils well.
An easy and successful method of coloring candles is infusion: simply melt the natural wax in a double boiler.
In a tea bag/coffee filter, put herbs of your choice. Insert the herb bag in the melted wax and let infuse on low heat until you get the desired color.
Why do colored candles burn faster?
In fact, candle makers use dyes to create colored candles that burn hotter, causing them to burn faster than white candles.
Overall, the use of dye in candle making is so minimal that it has only a small impact on the burn time.
When were colored candles invented?
Since the tenth century BCE, candles have been used as a source of light. Early candles were made by dipping wicks into containers filled with animal fat or wax. The first dipped candles were made by the Romans from rendered animal fat called tallow.
Read more
expand_more