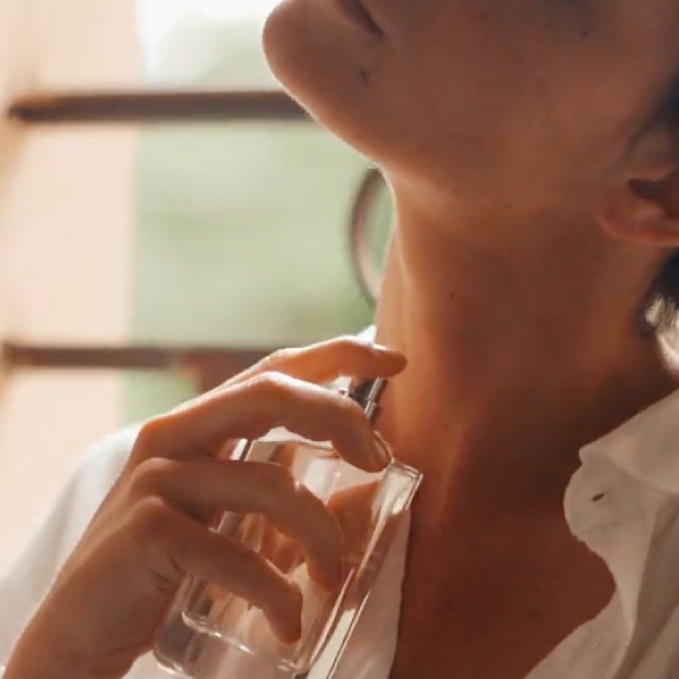 HOW TO PUT ON YOUR RARE PERFUME?
To combine business with pleasure, it is advisable to take a shower before applying perfume: the perfume holds better when applied to damp skin. 
Keep the bottle about ten centimetres away from your skin, and avoid being heavy-handed! Eau de parfum is more concentrated than eau de toilette :)
For those who prefer a more discreet fragrance, you can send a few spritzes into the air in front of you, to form a cloud that you will walk through to delicately impregnate yourself. 
WHAT ARE THE RAW MATERIALS USED IN OUR FRAGRANCES?
Here are some of the exceptional raw materials used in the creation of Rose et Marius eaux de parfum: 
Bergamot from Sicily and Calabria, orange from Brazil, vanilla absolute from Madagascar, jasmine absolute from Egypt, patchouli from Indonesia, pink berries from Brazil, sandalwood from India, green mandarin from Sicily, basil from Provence, pepper from India, patchouli from India, incense from Somalia, Oud, precious woods and many others...
All these scents allow you to make an olfactory journey around the world and to intoxicate yourself.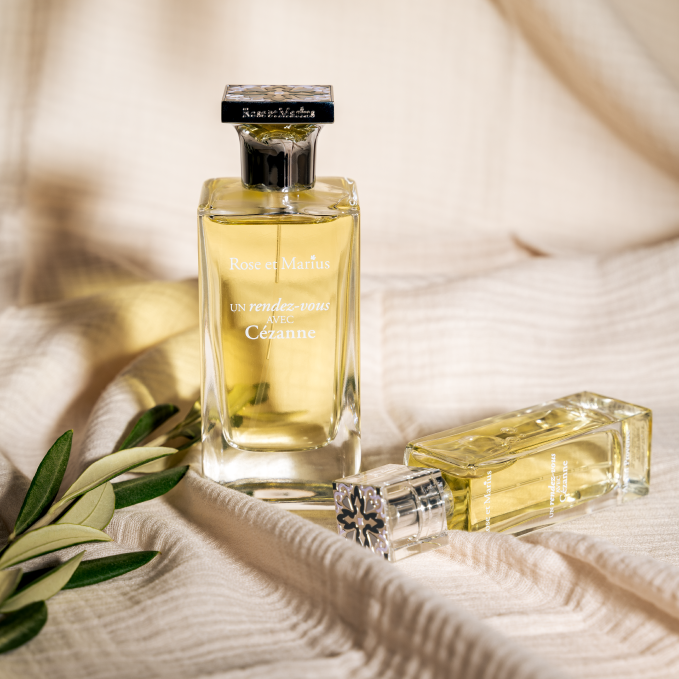 Tout savoir sur Perfume samples
Our perfumes are from the high end of the perfume industry and designed by our perfumer in Grasse, the capital of perfumery.
Based on natural ingredients, flowers and plants, a unique concoction to please and pamper you.
Discover all these different but equally magnificent scents.
Whether you prefer woody, fruity, sweet or gourmet, discover and choose your favourite fragrances from our 9 unique creations: 
Un matin à l'orangerie: a unisex fragrance combining citrus zest and the delicacy of orange blossom, with notes of Bergamot, Orange Geranium, Clementine, Mandarin, Vanilla, Jasmine etc... 
A rosé wine under the arbour: a feminine perfume, reminiscent of laughter, toasting glasses, a simple and joyful summer lunch like the happy days of a summer in Provence with notes of Patchouli, cedar wood, Raspberry and red fruits. 
A siesta in the sunny bastide: a feminine fragrance, reminiscent of the bewitching scents of wild herbs and flowers, an ode to voluptuousness and a wonderful summer in Provence. Notes of Mandarin, Fennel, Lemon, Basil etc...
A summer night under the fig tree: a unisex fragrance that recalls those siestas, lying under the hundred-year-old fig tree, of the particular fragrances exhaled by the golden leaves in the summer heat. Composed of notes such as Tuberose Absolute, Lemon, White Cedarwood, Patchouli, Musk etc...
Sunny Rose Water: a feminine, gourmand and sunny fragrance. The opulence of jasmine, roses, orange blossoms and vanilla pods.
A sunbathing experience with Marius: A unisex fragrance with spicy scents that scent the warm, moist air as the hillside exhales the vapours of the earth. Notes of Rose berries, Cardamom, Tonka beans, Sage etc...
A stroll under the oratory: A unisex fragrance, one of the oldest oratories in Aix en Provence signs the entrance to the emblematic boutique of Rose et Marius at 3 rue Thiers. An original eau de parfum that blends the intoxicating scent of incense with the sweetness of sandalwood bark and golden mimosa flowers.
An appointment with Cézanne: A unisex fragrance. Take an imaginary olfactory journey to the Sainte-Victoire mountain in Aix-en-Provence with the painter Paul Cézanne. With notes such as guaiac wood, cardamom, eucalyptus, with a heart of patchouli etc...
At Rose et Marius we want to spoil you. And we know that choosing a perfume is not always easy, and it is even more difficult when you have to buy it online, without having tried it.

Indeed, you want to be sure that the Rose et Marius eau de parfum will be the one that suits you best.


Nothing could be easier:

That's why, if you don't know yet which perfume to choose, we propose to refund your samples for any purchase of Rose et Marius 100ml eau de parfum within the year.

The little promo code will be slipped into your lovely parcel, so you can try them before you buy.

At the beginning of Rose et Marius, the desire to tell in the most beautiful way the scents of Magali's childhood in Provence.

To share the sweetness of life in the South, the Mediterranean scents through rare fragrances.

Our creations are constantly renewed with limited editions that punctuate the rhythm of the seasons and take you on the paths of Provence.

Each exclusive perfume in our collection is a Haute Parfumerie creation that tells the story of a moment of conviviality and memories in our beloved Provence.

We have selected the most beautiful raw materials to leave an exceptional trail and for the perfume to blossom in the most beautiful way on your skin.

It is to offer this exceptional olfactory journey that we have selected the most beautiful raw materials of the Haute Parfumerie.

On each of our online product sheets, you can learn about the history behind each creation, the noble materials and their origins, and the ingredients that go into their composition.

And if you have any questions, the Rose et Marius team will be delighted to help you!
Read more
expand_more