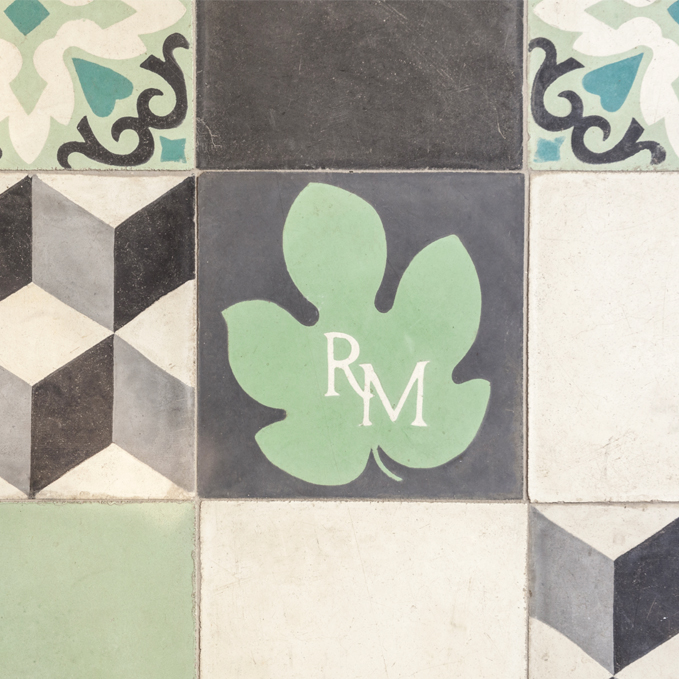 WHAT ARE THE DESIGNS ENGRAVED ON OUR SOAPS?
You may have noticed that our collections have wonderful engraved cement tile patterns. But do you know their history? Magali, the creator of Rose et Marius, used to play on these cement tiles in the Bastide of her grandmother, Rose (yes, the 'Rose' of Rose et Marius is her!).
So we took the - slightly yellowed - childhood photos to reproduce these patterns identically, some of which we have reworked a little, such as the Tame pattern, which means I love you, with small discreet hearts. This motif is for example on the perfume 'L'eau ensoleillée de Rose'. Each of our creations includes a motif that will then be engraved on our soaps, will adorn our zamac caps of eaux de parfums, will be deposited in gold or real platinum on our scented candles....
WHAT GIFT TO GIVE TO A PREGNANT WOMAN?
A mother-to-be must be spoiled and pampered: that's why it's essential to dedicate small beauty rituals to yourself. A nice warm bath with our natural, vegan Rose et Marius soaps made in Provence. As beautiful as it is good for the skin of mum and baby. Moisturising is one of the keys to beautiful skin. Rose et Marius offers you our essential hand and body cream "un vin rosé sous la tonnelle". It will allow you to perfume yourself while avoiding perfume, which is composed of alcohol and is not recommended during the first months of pregnancy.
Perfume without taking risks! As you probably know, alcohol is the main ingredient in perfumes. It is often criticised during the first months of pregnancy. However, perfume is important for the well-being of the mother-to-be and for seduction. This is why we offer you the ideal gift to give to a pregnant woman: the solid perfume Rose et Marius.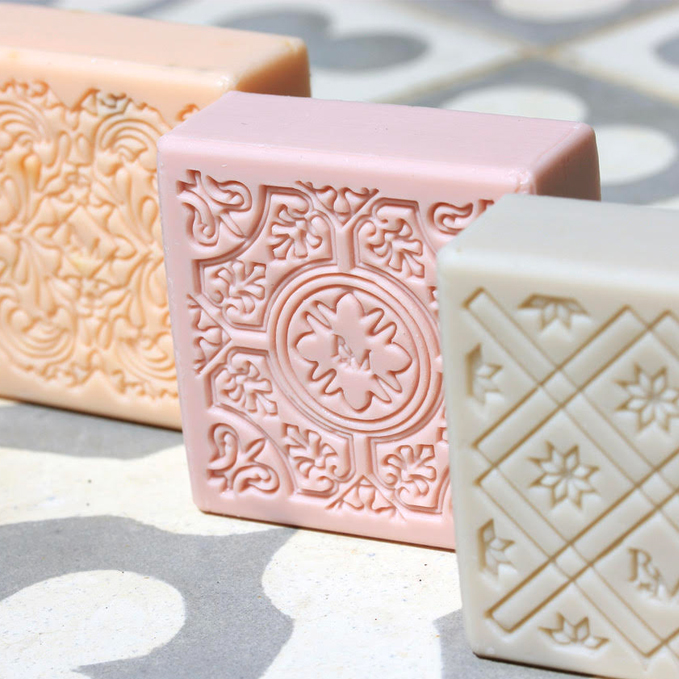 Tout savoir sur Soap gift boxes
Our solid soaps are 100% natural and French, for all babies, pregnant women or hypoallergenic people. 
Solid soap allows you to say goodbye to plastic bottles in the kitchen and bathroom.
The cold saponification process makes it naturally superfat, it is moisturizing and will nourish your skin. 
Why offer a soap box?
An ancient product, natural solid soap is coming back for its natural qualities.
Rose et Marius soaps are made using the cold saponification process. 
With only natural ingredients and organic vegetable oils. 
Solid soaps are beautiful and natural. Giving a soap is also a useful gift for the person who will receive it.
Give a box of body-friendly soaps to your loved ones to keep their skin healthy! 
In addition, the soap box is an ideal gift to give, as it gently moisturises and repairs your skin.
Indeed, the soap will deeply nourish and beautify your skin. It will also preserve it.
The soap box is a natural care that will bring many benefits to your body.
Thanks to this set, you can offer a daily and effective care to your entourage.
These products can be used on men, women and children.
How to choose your soap gift set?
Before buying, don't be fooled by the packaging and remember to check the composition of your products.
They must be natural and must not contain chemical elements. 
Choose natural main ingredients.Some soaps contain chemical elements, which can be toxic to your skin. Ethylene diamine tetra acetic, phenoxyethanol or silicone are elements to avoid. 
At Rose et Marius, our soap sets are all made from natural ingredients, and can be made to order by mixing the scents you like best.
Choose the fragrances from our high end perfumery that suit you best.
You can choose from 6 fragrances to match our eaux de parfum.
A life is sometimes based on a childhood memory, a memory buried deep in the heart like an indelible imprint that ends up marking our destiny.

We wanted to share the olfactory memories of the childhood of the creator, Magali, who spent all her summers in the bastide of her grandmother, Rose.

Our boxes of natural and vegan scented soaps are so many pleasures to spice up our daily life with pleasures of every moment.

As a gift or as a luxury gift idea, discover our selection of scented soaps made with love by our craftsmen in Provence, which will allow you to appreciate the extent of our scented creations.

This box can be personalised so that you can choose the ones you like best!

Because at Rose et Marius we want to embellish your daily life, we offer you wonderfully refined collections.

A luxury box, practical, 100% Made in France and eco-friendly! 11 scents to vary the pleasures!

Rose et Marius, an exceptional perfumer in Aix en Provence, offers you original, luxurious but affordable gift ideas to impress and surprise your loved ones with original gift ideas made in France.

The pleasure of giving. Yes, but when this gift is personalised, it takes on a whole new dimension.

That's why Rose et Marius offers you to make them unique and let you express all your creativity in the word you want us to engrave for you on your natural scented soap.

Our solid soaps are bathroom essentials: chic, sober, vegan and natural, discover our range of solid soaps 100% made in Provence.

Discover the spirit of the brand with our collection of soap bars made from natural plants, engraved with our cement tile patterns.

Because we want to offer you wonderfully simple and refined products, we have innovated by proposing a unique base, made from poppy oil known for its softening properties.

The exfoliants are also natural, we use ground vanilla, lemon peel, verbena leaves, lavender flowers or grape seeds as well as natural colouring agents based on ochres from Roussillon and green clay.

To make your skin soft and silky, naturally!
Read more
expand_more