Rose et Marius, Provence's leading Haute Parfumerie brand, perfumes the world's most exceptional places: the Elysée Palace, 5* hotels, the world's finest restaurants, the Château de Versailles, Villa Ephrussi…
Some of these addresses conceal veritable gastronomic gems run by renowned chefs, awarded the ultimate grail: three Michelin macaroons.
These culinary masters push the boundaries of creativity and excellence, just as Rose et Marius does in the world of perfumery.
Thanks to these collaborations, our fragrances harmonize with the gustatory delights of these prestigious tables or perfume the ambience, creating an unforgettable sensory experience unique to each venue.
In this article, plunge into the intoxicating world of Rose et Marius and go behind the scenes of our partnerships with these Michelin-starred chefs, where fragrances and flavors mingle to delight your senses and the Art de Vivre made in France.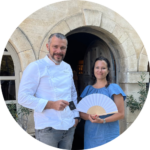 L'OUSTAU DE BAUMANIÈRE | GLENN VIEL
Glenn Viel is one of the most emblematic figures in French gastronomy. Known to the general public for his role as a juror on the M6 cooking show TOP CHEF, he was also France's youngest triple-starred chef.
He is the creative force behind the gastronomic delights of the Oustau de Baumanière restaurant in Les Baux-de-Provence.
In 2014, Glenn Viel joined the team, deploying an eco-responsible culinary approach. Around the restaurant, he creates an organic vegetable garden, installs beehives and sets up an educational farm. What's more, he makes his own fertilizer from the restaurant's kitchen waste to feed the vegetable garden. One of his notable innovations is the use of seasoning pebbles, an innovative technique replacing salt.
In September 2019, Glenn Viel is recognized as one of ten French chefs "committed to responsible gastronomy", alongside talents such as Florent Ladeyn, Christophe Hay and Jean Sulpice.
The chef thus embodies culinary excellence and a commitment to environmentally-friendly gastronomy, and his talent continues to inspire fine food lovers around the world.
GLENN VIEL X ROSE ET MARIUS
Starting this summer 2023, the iconic dish of fresh herb decoction on Glenn Viel's menu will be magnified by one of our scented creations created especially to sublimate this dish. Based on green tomato, wild mint and fig leaves, discover the home fragrance created by Rose et Marius for Chef Glenn Viel.
This home fragrance is made from the finest raw materials from the Haute Parfumerie de Provence.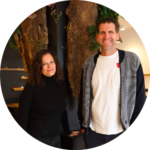 AM | ALEXANDRE MAZZIA 
Alexandre Mazzia, a talented French chef, heads up his own restaurant, l'AM, which has been awarded three Michelin stars in Marseille. In the news: he will have the honor of being the Chef of the 2024 Olympic Games.
In 2011, Alexandre Mazzia was awarded the title of "Young Talent" by the Gault & Millau guide, along with an endowment which he used for his restaurant project.
On June 17, 2014, he realized his dream by opening his own establishment, AM par Alexandre Mazzia, located on rue Rocca in Marseille. Right from the start, the restaurant was sold out, and its reputation quickly grew.
In November 2014, he was named "Grand de Demain" by the Gault & Millau guide, and in January 2015, he was awarded his first Michelin star. In 2015, he received the "Creator of the Year" award from Omnivore, and in May 2016, he was awarded the prestigious "Gault & Millau d'Or".
In January 2021, Alexandre Mazzia was awarded three Michelin stars for his restaurant AM in Marseille.
ALEXANDRE MAZZIA X ROSE ET MARIUS
Our collaboration with Alexandre Mazzia began during the health crisis, when he was looking to develop a hydroalcoholic gel, a special product, an ephemeral experience that fades on the hands.
We offer a collection of hydroalcoholic gel scented with rosé wine, which is a fairly powerful scent. The idea was to come up with a more discreet scent, so as not to disrupt the taste experience, for its restaurant l'AM.
So we moved forward together with a fragrance called 'Une rêverie au jardin d'eau', based on ginger, coriander and cardamom.
You can buy this fragrance on our website in shower gel, soap, home fragrance spray, pillow mist, candle and home fragrance diffuser.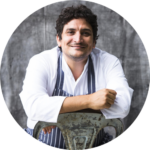 LE MIRAZUR | MAURO COLAGRECO
Mauro Colagreco, a talented Italian-Argentinian chef, is the chef and owner of Le Mirazur restaurant in Menton, which has been awarded three Michelin stars and voted best restaurant in the world in 2019.
In 2006, Mauro Colagreco moved to Menton and opened Le Mirazur. In just six months, he was named "Revelation of the Year" by the Gault&Millau guide. Less than a year after opening, the restaurant was awarded its first Michelin star.
In 2009, he was crowned "Best Chef of the Year" by the Gault&Millau guide.
Mauro Colagreco's hard work is rewarded with his third Michelin star in 2019.
As a polyglot, the Chef excels at creating 250 to 300 dishes each year. He also maintains his own orchard garden in Menton, where he cultivates an abundance of aromatic herbs and fragrant citrus fruits, a valuable source of inspiration for his cuisine.
In June 2019, his restaurant Le Mirazur in Menton was named "World's Best Restaurant" in The World's 50 Best Restaurants 2019.
MAURO COLAGRECO X ROSE ET MARIUS
We're accompanying Mirazur around the chef's universe, which is made up of 4 variations inspired by the moon. The chef's menus are inspired by the bio-dynamic cycle, and Mirazur has chosen 1 fragrance for each menu. These scents are diffused with our diffuser sticks. Here are the fragrances chosen by the Chef and his team:
Racines 'Une flânerie sous l'oratoire': the earth whispers a menu inspired by the set of roots available.
Leaves 'Une nuit d'été sous le figuier': a journey guided by the movement of sap in the plants-
Flowers 'Sunny rose water': a menu that highlights the expansion of beauty with the array of flowers available in our gardens.
Fruits 'Un vin rosé sous la tonnelle': the regenerative force of nature inspires a menu with the full range of fruits available.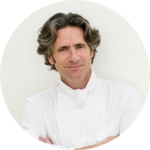 LE PETIT NICE PASSEDAT | GÉRALD PASSEDAT 
French chef Gérald Passedat heads the Le Petit Nice restaurant in Marseille, which has been awarded three Michelin stars since 2008. His passion is seafood and the Mediterranean.
In 2013, he created the Môle Passedat, which includes accessible dining spaces and a cooking school, within the Mucem.
Gérald Passedat's family history can be traced back to his grandfather Germain Passedat, who in 1917 acquired the Villa Corinthe in Marseille and turned it into the restaurant Le Petit Nice, located on the rocks by the sea. His father, Jean-Paul, continued this culinary tradition and transformed the place into a luxury hotel, earning a first Michelin star in 1977, followed by a second in 1981.
Born at Villa Corinthe in 1960, Gérald Passedat developed his interest in cooking at an early age, observing the work of his father and the women in the family. His desire to become a chef was strengthened by a meal at Alain Chapel's three-star restaurant in the 70s.
He took his first steps at the École hôtelière de Nice in 1976, then trained at a number of prestigious establishments, including Le Coq Hardi in Bougival, Le Bristol, Le Crillon in Paris, Les Frères Troisgros in Roanne, and Les Prés d'Eugénie in Eugénie-les-Bains with Michel Guérard. These experiences taught him the simplicity of gesture, the mastery of cooking and the art of lightness and digestibility, techniques that continue to influence his cuisine.
In 1985, he joined his father's kitchen at Le Petit Nice as an apprentice. In 2000, he took over the reins of the restaurant and maintained its two stars. In 2008, he was awarded the third Michelin star, making Le Petit Nice the first restaurant in Marseille to achieve this distinction.
GÉRALD PASSEDAT X ROSE ET MARIUS
Gérald Passedat, the famous French chef known for his passion for seafood and refined Mediterranean cuisine, recently called on us to provide olfactory support for his restaurant in Marseilles.
We are now working with Gérald Passedat on a fresh mint room fragrance.
Fresh mint, with its lively aroma and invigorating flavor, adds a note of freshness and elegance to his already exquisite dishes. Gérald Passedat has always been intrigued by aromatic herbs and fresh ingredients, and fresh mint offers him an opportunity to create new harmonies of flavor.
The choice of fresh mint is also an ode to the Mediterranean, a region dear to the chef's heart. Mint is often associated with this region because of its traditional use in Mediterranean dishes, offering welcome freshness in hot climates.
Perfume your home with our fresh mint room spray.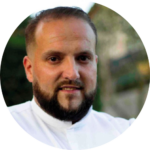 LES LODGES SAINT-VICTOIRE | JULIEN LE GOFF
After the illustrious Paul Cézanne, the majestic Mont Sainte-Victoire continues to inspire creative minds… Talented Chef Julien Le Goff and his team have set up shop in the marvellous Lodges Sainte Victoire hotel in Aix en Provence, where Mont Sainte Victoire has a front-row seat.
With a wealth of national and international experience, in 2008 he joined the brigade at Mas du Langoustier, on the island of Porquerolles. Enamored of this island paradise, he returned every season until taking over the kitchen reins in 2013. The insularity of Porquerolles is reflected in his cuisine, imbued with refinement and lightness, with Mediterranean accents subtly blended with terroir and travel influences.
Passionate about the products he works with, he is committed to promoting the work of producers who share a quality approach, respectful of the environment and the richness of the terroir. This approach is totally in line with his vision of French and global gastronomy, rooted in values of respect and sustainability.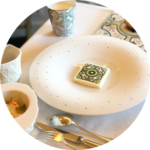 JULIEN LE GOFF X ROSE ET MARIUS
Together with the Chef and his team, we created a Rose et Marius dessert for the menu of this Michelin-starred restaurant. An absolutely exceptional dessert created by pastry chef Rudy Morel in collaboration with our emblematic rosé wine fragrance. Chef Rudy Morel has taken the motif of our cement tiles (the ones on which Magali Fleurquin-Bonnard, the creator of Rose et Marius, used to play as a child, in the bastide of her grandmother, Rose, who inspired her to create Rose et Marius), delicately scented with our rosé wine perfume, which for the occasion has been made into an edible version. When served at the table, this dessert is accompanied by one of our candles scented with the same fragrance as the dessert, for an unforgettable olfactory and gustatory experience.
Discover our rosé wine home fragrance spray here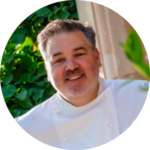 LA MAGDELEINE | MATHIAS DANDINE
French chef Mathias Dandine heads the Michelin-starred La Magdeleine restaurant in Gémenos.
In the late 1990s, Mathias Dandine took over the kitchens of Escoundudo, his parents' restaurant. He acquired his know-how alongside his father Max, trained with Laurent Tarridec (Les Roches in Aiguebelle) and Bruno (Restaurant Bruno in Lorgues, so famous for its truffles), and was inspired by Gui Gedda, the pioneer of Provençal cuisine in the 1960s.
After l'Escoundudo, Mathias pursued his career while remaining attached to Provence. With the support of his brother Fabien, who has assisted him in the dining room from the start, he took over the reins at the famous Roches in Aiguebelle, a place where he also trained and where he quickly earned 3 toques.
In 2014, a new adventure awaited him in Aix-en-Provence, where he created a cuisine of excellence from scratch and was rewarded with 3 toques in the 2016 guide.
In 2019, Mathias Dandine makes his dream come true by finding the perfect home: a magnificent sun-drenched bastide near Aubagne, a veritable condensation of Provence nestled in the heart of a park. He favors truth, precision and charm over extravagant luxury.
At La Magdeleine, he rediscovers this magic while refining, thanks to his growing experience, a cuisine he masters with unparalleled virtuosity.
MATHIAS DANDINE X ROSE ET MARIUS
Mathias Dandine, the famous French chef known for his passion for Provençal cuisine, recently called on us to provide olfactory support for his restaurant La Magdeleine. We drew inspiration from his wonderful garden, in which a century-old lime tree perfumes the air, and from the orangery on the premises, to create a room fragrance with the freshness of citrus and the honeyed sweetness of lime blossom. A fresh, invigorating and refined fragrance ideal for well-being at home.
This 'Songe sous les agrumes et fleurs de lilleul' home fragrance is available in your hotel, restaurant and also in our online store here.